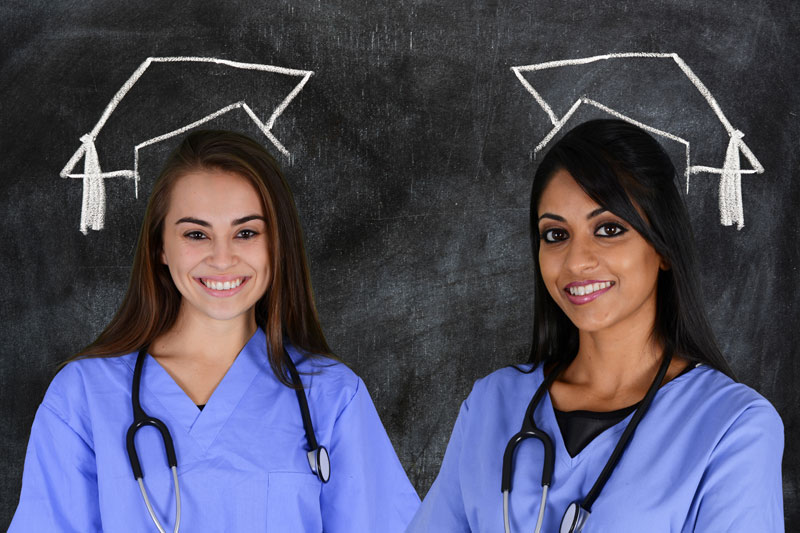 Their are a number of Washington state grants and scholarships grants based a variety of merit and needs based criteria.
To be eligible for grants from the state government, students must turn in their FAFSA (Free Application for Federal Student Aid) form by the deadline (usually June 30th of the year you plan to attend school).
Washington State uses the Expected Family Contribution number (a number calculated from the earnings disclosure presented in this form) to determine every student's financial need.
Depending on this number, you may be eligible for a grant.
Here are some of the available options…
Washington College Grant
Many students in the state of Washington will receive this grant to help with the cost of their schooling.
After students have finished submitting their FAFSAs, the state of Washington will automatically consider each student for need-based funding. Any need-based grants that are awarded can be used at accredited universities, trade schools and community colleges within the state.
To be eligible for the award, students must be residents within the state of Washington and be enrolled at an accredited program.
Financially, students must have a family income of less than 65 percent of the current median level in the state. To continue to receive funding, students must maintain satisfactory academic progress toward their degree.
In addition, students can be studying theology if they wish to receive state funding.
To obtain more information about Washington state grants, visit this site.
Pride Foundation
These grants encompass more than 50 different individual scholarship programs.
Students just have to complete one application and submit it to the Pride Foundation to be considered for all 50 programs.
Each scholarship is intended for lesbian, queer, gay, transgender, bisexual and straight-ally students. To be eligible, students must be current residents of Washington, Oregon, Montana, Alaska or Idaho.
They may attend school anywhere in the country, but must be enrolled at an accredited institution. Applicants may not be high school freshmen, sophomores or juniors. Award winners exhibit a commitment to social justice and academic success.
Washington Award for Vocational Excellence (WAVE)
WAVE was created for students who are enrolled at vocational colleges or trade schools in the state. These Washington state grants are intended to be given to students who exhibit financial need and exceptional levels of academic achievement.
Each year, three students in each legislative district are awarded with the grant. It covers two years of tuition at university. The total award amount is not to exceed the total cost of tuition and fees.
Applicants are chosen based on nominations by high schools, community colleges and skill centers.
Students must be enrolled at a high school or college within the state of Washington.
They must graduate from high school or have completed one year of studies in some form of vocational program. In addition, successful applicants cannot already have received the award in previous years.
Students who are searching for more information should go here.
HECB Promise Scholarship
The state of Washington provides scholarships to students who have achieved significant academic success in their high school education. The HECB Promise Scholarship is given to students who are from low- or middle-income families and are enrolled at a public college.
Applicants must be in the top 15 percent of their graduated class.
Additionally, they should have at least a 1,200 on the SAT or a 27 on the ACT.
The student's family income cannot be greater than 135 percent of Washington State's median income level.
Wendy Jackson Hall Memorial Scholarship
In memory of Wendy Jackson, this scholarship fund was set up to help others pursue a degree in the visual arts. Applicants must have a GPA of at least a 3.0 and be graduating from a public high school in Washington state.
They must be attending an art program in the United States immediately following their high school graduation. Although the program primarily judges applications based on academic merit, students must submit evidence of their financial need as well.
HECB Health Professional Loan Repayment Program
Applicants for this program must be prepared to serve in shortage and high needs areas.
They must be health care professionals in the state of Washington. This program will repay academic loans for students.
To receive a full repayment of their loans, health care professionals must work in high need areas for at least three years.
HECB Educational Opportunity Grant
This Washington state grants program is intended to help students who exhibit extreme financial need.
The grants are a total of $2,500 annually.
Students may receive additional yearly funding provided they make satisfactory academic progress. This award is given to students who have already completed their Associate of Arts degree and are about to continue their education.
William Hunt Professional Development Scholarship
This scholarship program is paid for through the Pacific Northwest chapter of the ASTA. The award provides up to $500 to students who want to attend the Travel Institute Educational Program or an ASTA seminar. Applicants must be studying hospitality, travel, tourism or a related industry.
They should be academically successful and have at least two years of work experience in the field.
The scholarship is provided as a reimbursement.
Only expenses and costs incurred at the seminar can be repaid. All reimbursements must be requested within one year of the seminar or program.
MGMA Western Section
This scholarship program is an agreement for reduced tuition costs in member states. Students within the Western coalition of states only have to pay the in-state cost of tuition and an additional 50 percent when studying at a member state.
Member states include: Wyoming, Montana, Nevada, Alaska, Washington, Arizona, California, Utah, Oregon, Hawaii, Idaho, Colorado and New Mexico. To receive the reduced tuition, students must be enrolled in an undergraduate or graduate program.
HECB Washington Scholars Program
Another one of Washington state grants is the Scholars Program. Academic achievement, extracurricular activities are all taken into account in the selection of award winners. Students are nominated by their high school principals in the fall of their senior year.
Each year, the HECB gives out a total of 147 scholarships and chooses 49 alternates. The scholarship award lasts for up to 12 quarters of school. To continue to receive the scholarship, students must maintain at least a 3.3 GPA.