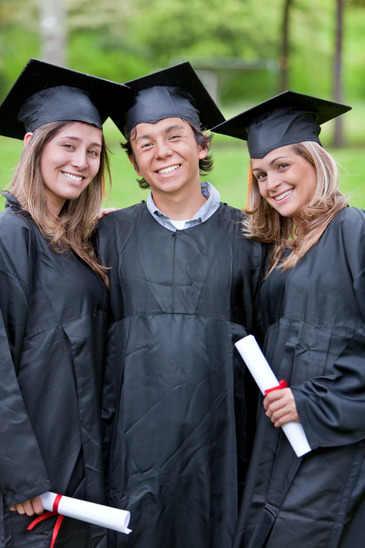 Residents can take advantage of the many different Idaho state grants and scholarships available for school and college.
Applicants generally must be state residents and demonstrate either financial need or future academic potential.
Some of the best scholarship programs are offered through the Idaho Community Foundation and the Idaho State Board of Education.
GEAR UP Idaho Scholarship
Awarded every year in April and May, this scholarship is intended for students who were participants in the GEAR UP program during their high school years. Applicants can be no older than 22 and should have a high school diploma or GED.
The program also requires students to submit a Free Application for Federal Student Aid (FAFSA) form prior to applying.
Students are judged off of their participation in the GEAR UP program and their financial need.
The scholarship will pay up to the amount of the current year's Pell Grant. In addition to public schools, many regionally accredited universities in Idaho qualify as well.
Students must maintain their full-time enrollment in order to renew their scholarship award for four years.
Scholarship applications can be accessed at the Idaho State Board of Education website: http://www.boardofed.idaho.gov/.
Freedom Scholarship
Students who have had a parent who was killed in action, missing in action, a prisoner of war or died of war-time injuries are eligible for the Freedom Scholarship.
It offers applicants a fee waiver and an additional $500 each semester for books and living expenses.
To be eligible, the parents of the students must have been Idaho residents and be accepted into a public school within Idaho state. Overall, the award will cover no more than four school years.
Academic Competitiveness Grant
This grant program is open to any United States resident who demonstrates financial need.
They must have already applied for the FAFSA and have completed a rigorous high school curriculum. Overall, the school grant will cover up to $750 of the student's expenses in their first year and up to $1,300 in their second year.
This program is offered along with the Federal Pell Grant as a way to help talented students achieve their potential.
Each student must be enrolled for at least six semester hours and maintain a 3.0 GPA during their first year of study.
Education Incentive Loan Forgiveness Program
Targeting Idaho's high school students, this program is intended for future teachers and nurses.
Loans given out by the program pay for the student's schooling in return for the student's agreement to stay within Idaho and work for two years in their career field.
The Education Incentive Program requires students to be enrolled at a college or university in Idaho and be in pursuit of a degree in teaching or nursing.
They must be in the top 15% of their class and maintain a 3.0 GPA or higher for their first two semesters.
To be eligible, students should have attended a high school in Idaho or be an Idaho student.
Additionally, applicants should apply no later than two years after their high school graduation.
Leveraging Educational Assistance Partnership Program (LEAP)
Sponsored by the state of Idaho, this program is intended to bring academically successful, bright students from across the nation into the state.
Students can be residents of any state to qualify for the maximum of $5,000 in award money.
Application deadlines for the LEAP program is at the end of April of each year.
Successful applicants must be United States citizens and attending an Idaho college at least part-time. They also cannot be in default on any of their student loans.
Supplemental Leveraging Educational Assistance Partnership Grant (SLEAP)
This is another one of Idaho state grants that is targeted at out-of-state students.
The SLEAP grant program was created to provide additional money to LEAP award winners who still did not have enough aid to cover the cost of school.
Like the LEAP program, SLEAP requires that students are from out-of-state and be currently attending a university or college in Idaho.
The Idaho Community Foundation
With over 60 different scholarships available, the Idaho Community Foundation is one of the top sources of Idaho state grants available.
Students can apply through their program for numerous grants like the Barbara L. Carnefix Memorial Scholarship or the Jim Poore memorial Scholarship.
Most of the scholarships offered on their website at http://www.idcomfdn.org are only available to Idaho residents.
Society of Women Engineers Scholarship Program
Students from Idaho who are attending a postgraduate program in engineering may apply for this scholarship.
Students must be female and be entering the first year of their program.
The Society of Women Engineers gives out awards of $2,000 to women in the area who are studying engineering.
Teacher Education Assistance for College and Higher Education Grant (TEACH)
Students who plan on pursuing a career in education can apply for the TEACH grant.
Counseling must be undergone before and during the student's years at school.
Full-time undergraduate students may receive up to $4,000 a year in grants while graduate students may obtain a maximum of $8,000.
After students have completed their course of study, they must be willing to teach low-income students in the state for a minimum of four years.
Additionally, applicants should have a minimum of a 3.25 GPA and complete all of the TEACH grant's counseling sessions.
The program is only open to United States citizens or eligible non-citizens.
Resources for Idaho State Grants and Scholarships
Idaho State Department of Education
Idaho State Board of Education
http://www.boardofed.idaho.gov/
The Idaho Community Foundation