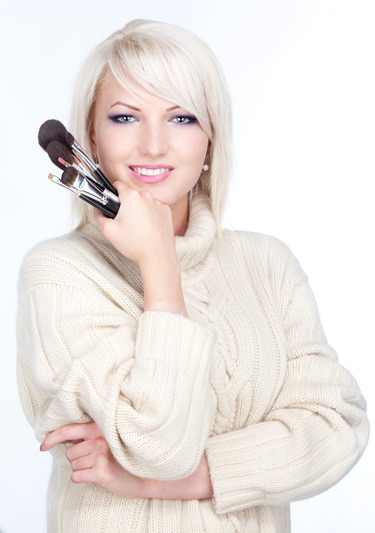 Wondering how to get beauty school grants?
Makes sense. Students at cosmetology or beauty schools these days are being asked to fork over a good deal more money than they were just a few years ago. And the cost to attend is largely dependent on where you live.
Those who are in a metropolitan area or who live near a metropolitan area like New York City or Boston can spend as much as $10,000 for a comprehensive program. If you live in a rural area, your cost for the same program might be as little as $6,500.
As more and more people express an interest in being willing to spend good money on how they look, the cosmetology industry continues to grow and that means more schools and more students. But it also means a higher cost for the education. Those looking for help in paying for cosmetology school might look into scholarships and grants.
While there are industry-specific cosmetology or beauty school grants available, your best option is to start by applying for the general Federal and State grants and scholarships that can be used to help pay for beauty school.
Let's have a look…
Federal and State Grants
Although the grants offered by government bodies are not specifically for beauty or cosmetology school, they can be used to fund such programs, provided your chosen school is properly accredited.
While these grants are the most lucrative (the Federal Pell grant can pay over $5,000 per year) they are also needs-based, which means that they are distributed on the basis of financial need. This financial "need" is determined via the financial disclosure information provided on the grant application.
Because it costs you nothing to apply for these grants, we always recommend it is your first step in obtaining funding for beauty / cosmetology school.
In order to apply, you need to submit the Free Application for Federal Student Aid.
Complete details on how to do that can be found here!
American Cosmetology Education Grant
This grant is funded by the American Association of Cosmetology Schools and a number of corporate sponsors.
As with many cosmetology school grants, you apply for this grant through your school.
The grant is awarded based on need and the costs of the program as well as an interview and solid application; depending on how well you present yourself in a number of areas, you might be approved for the grant funding.
The ACE cosmetology school grant is one of the largest grant programs available for students in beauty school, so the competition can be fierce.
Students are advised to pay careful attention to the application deadlines and to plan ahead so funding is secured before it's needed.
Students should also apply to other grant programs in case they aren't approved for the ACE grant.
The ACE also lists a number of applicable grants and scholarships on their web site.
The NCEA Esthetician Scholarship
This grant, offered by the National Coalition of Estheticians, Manufacturers/Distributors and Associations, is for $1,000 and is designed to help students in cosmetology school who have a myriad of factors in their favor: they must have a financial need, good attendance and have good grades.
This grant is specifically for students in an esthetician program and requires that students have at least 80 percent attendance, and a B-grade average or better.
As with other cosmetology school grants, you apply for this grant through your beauty school; it's considered first by your school officials and then by officials with the NCEA.
The Joe Francis Haircare Scholarship
This scholarship, started by the widow of Joe Francis who wanted to honor his life and contributions to the beauty industry, is available to students who are either entering or are already enrolled in a cosmetology or barber program. It's not available to students who are in an esthetician or nail training program.
The number of grants awarded each year varies, but in 2010, 20 grants were awarded to cosmetology students.
The award is for $1,000 and is based on a student's academic merit, commitment to the cosmetology industry and financial need.
OPI Scholarships
OPI, a leader in the nail care industry, offers scholarships for students in cosmetology school or those who are enrolled in a nail technician program. These scholarships offer $500 for students who qualify; students will be selected primarily based on their commitment to the beauty industry. Students must also attend an OPI-preferred cosmetology school.
Sports Clips Scholarships
Sports Clips offers scholarships for students who are attending cosmetology schools that are members of the American Association of Cosmetology Schools. These cosmetology school grants are for $1,000 each and are awarded based on a student's good grades, good attendance and financial need. Twenty-five of these scholarships were awarded in 2010.
Visit Your School's Financial Department

If you attend an accredited cosmetology school, or you're planning to attend an accredited school, you want to start by going to the financial office of that school. The financial aid officers can direct you not only to grants that you might be eligible for but also to student loans, federal aid, and other scholarships that can benefit you.
You'll likely want to start applying for aid that is free.
That is, most grants and scholarships do not need to be repaid like a student loan, so you want to tap into the stream of free money before you consider taking out a loan.
The financial aid officers at your cosmetology school can help you identify cosmetology school grants that might be specific to your particular niche, your specific financial need, or that specifically benefit students who live or work in a particular area.
Be sure to consider the financial aid offered by your cosmetology schools. Some of these grants and scholarships are awarded only through a specific school, so you can't apply for them except through your school. The financial aid officer will have information about these kinds of grants and scholarships.
If you have not yet identified a school to attend, you can look at www.beautyschools.org, which can help you locate a beauty school in a specific area and which can offer information about specific schools and which offer cosmetology school grants and other funding options.
Be aware that many cosmetology school programs are booked well ahead of each new school year, so you might end up waiting to enter a program. In the interim, you can apply for grants and scholarships and have them lined up before you even enter the beauty school program.