Grants are a form of financial aid much like scholarships; the money given to a student from a grant does not have to be repaid like a loan.
Grants are given out for a variety of reasons, from financial need to academic merit or even the choice to study a particular subject. Arkansas state grants offers Arkansas students financial aid for their studies:
Arkansas Health Education Grant
This grant is for students who want to study chiropractic medicine, dentistry, optometry, osteopathic medicine, podiatry or veterinary science. It allows students to attend an out-state-institution with an accredited program in one or more of these areas without paying out-of-state tuition.
Students interested in applying for the grant should contact the ARHEG Coordinator by emailing finaid@adhe.edu or calling 1-800-54-STUDY.
Arkansas Higher Education Opportunities Grant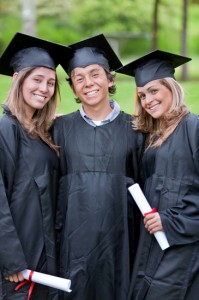 Also known as the GO! Opportunities Grant, this program assists students who have unmet financial need after qualifying for federal aid. Any student in an accredited Bachelor's, Associate's, certificate or nursing program can apply if they meet certain family income requirements as defined by the federal government. Students must also maintain a 2.0 GPA while in school and sign a pledge to remain free of illegal substances.
Students can apply for this grant by filling out and submitting the Free Application for Federal Student Aid (FAFSA) form by the June 30th deadline. The amount for the award varies. Full-time students can receive up to $1,000 a year and part-time students can get up to $500 per year. No student may receive more than $4,000 total in his/her lifetime from this grant.
Workforce Improvement Grant
This grant is designed for non-traditional students who are 24 years or older and demonstrate financial need. To qualify the student must complete the FAFSA and be eligible for Pell Grant, but still have unmet financial need after the Pell is disbursed. Students can receive up to $2,000 a year if they study full-time.
[contentblock id=1]
Academic Challenge Scholarship
This scholarship is designed to aid students pursuing higher education in an accredited Bachelor's, Associate's, certificate or nursing school program. Students applying for this scholarship are classified as either Traditional, a Current Achiever or Non-Traditional. These classifications specify different academic criteria for each applicant, though while in school all must study full-time and maintain a certain average GPA.
Students can receive up to $5,000 if studying at a four-year institution and $2,500 if studying at a two-year institution or in an accredited certificate or nursing program. Application information can be found on the Arkansas Higher Education Department's website at www.adhe.edu or by calling 1-800-54-STUDY.
Governor's Scholars Program
This program offers school grants money to graduating high school seniors who meet high standards of academic achievement and leadership. Students must enroll for full-time study in an accredited private or public university in the state of Arkansas and maintain the same academic standards.
The Governor's Scholars Program offers two awards, the Governor's Scholarship and the Governor's Distinguished Scholarship. Distinguished scholars are eligible to receive up to $10,000 per year for their studies; all other program scholars can receive $4,000 per year. Students can receive this award money for up to four consecutive years.
Students can apply for the Governor's Scholars Program online at www.ark.org. More information can also be found by calling 501-371-2000.
Second Effort Scholarship
The Second Effort program is designed to assist scholars who do not graduate from high school but receive a state GED. It is awarded to the ten students with the highest scores on the GED test each year. These students can receive the scholarship for four years but must maintain a GPA of 2.5 while enrolled at a higher education institution.