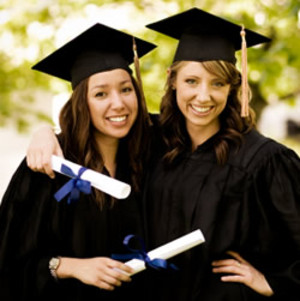 Going to college can be a quite expensive journey. Once college is completed, the possibilities are endless for graduates, but how does one prepare and pay for college in the beginning?
Luckily, there are numerous grants available for everyone, especially women, and these are paid by an individual or an organization. This works well for women too as there are some that are dedicated to single parents, those that have been abused or women without homes. There are, in short, quite a few school grants for women.
The best part about grants is that they do not have to be paid back as long as they are used properly and the way they are intended to be used. Grants are established for specific costs for college students as well as specific organizations and they all have qualifications that must be met before the grant can be used.
This can include the type of degree you are majoring in to a specific sports activity that has been played. There are four types of school grants for women available that include federal, private, corporate and professional. These can be found by searching online through a variety of websites and through your local government as well.
---
Impact 100 Greater Indianapolis School Grants for Women
The ideals of the grants given by Impact 100 Greater Indianapolis are to better the problems in our society and enrich the culture through a variety of outlets. This is done by giving grants to acceptable organizations that meet their criteria and are also based around women and their efforts to change society.
Applicants can only apply once a year must be non-profit, use the full amount given for a goal oriented project, be used within a period of 24 months and must be a new program or one that is expanding.
Applicants from the Greater Indianapolis area in counties including Boone, Johnson and Shelby and a few others are also open to apply for grants.
This non-profit organization uses five focus areas for applicants, but you can only apply to one area. Those areas are family, health and wellness, arts and culture, education and the environment. The process for this organization includes a 4-step journey: a letter of inquiry, full grant application, site visit and presentation to membership.
Once these four qualifications have been met and presented by January of each year a decision will be made and organizations will be selected in June.
---
Arcus Foundation
Two very important elements are the basis behind the Arcus Foundation. They are conservation and human rights. The focus is clear and that is to give LGBT (lesbian, gay, bi-sexual and transgender) rights and a voice and also the habitat and survival of the great apes.
There are two programs within this organization: The Arcus Great Apes and The Arcus LGBT.
This includes conserving the great apes and their homes while respecting their rights. For LGBT the rights are looked at locally and globally and religion, values, justice and gender identity are also a part of the program. Each program has a 4-step process that has to be completed to be accepted for the grant.
That includes a confirmation of eligibility, contacting the Arcus foundation staff, submitting an LOI (letter of inquiry) form and finally submitting a full grant proposal upon invitation.
The letter of inquiry can be sent in at any time during the year and will be reviewed by the staff for approval. This organization does not give out grants to individuals, ones for medical research, political or film purposes. They do provide help for capital projects, specific programs and public policy research among other important ventures.
---
AAUW (American Association of University Women)
The AAUW is an organization dedicated to enriching the lives of women from all over the world. They help women by providing grants for obtaining graduate degrees and also making a difference in their communities.
The AAUW offers fellowships and grants to prospective individuals through American Fellowships, Career Development Grants, Community Action Grants, International Fellowships and Selected Professions Fellowships.
Each one has specific requirements that must be met for participation and the amount of money given with each one varies. The American Fellowships focuses on female doctoral candidates and postdoctoral research. Career Development Grants focus on women wanting to advance or change their careers and also women that are coming back to the workforce.
These grants require a bachelor's degree. Education and equality are what Community Action Grants are all about. These grants are for non-profit organizations, individuals and non-degree research projects.
International Fellowships are for those who wish to study in the US, but are not US citizens or residents. In certain fields where women want to study, but have not, there is the Selected Professions Fellowships so that they can devote full time to their chosen course of study.
---
Avon Foundation
The Avon Company has been making women beautiful for many years with their various beauty and body products.
The Avon Foundation takes that ideal one-step further and makes over women's lives that have been affected by breast cancer, domestic violence and disaster relief from unforeseen emergencies.
The foundation offers grants to non-profit organizations that focus on these three areas while working to make a difference within each of them and the women that are a part of them. While the organization does offer funding to specific organizations there are some that are not a part of that.
Individuals, religious, political and medical organizations are not available for the grants. Patient care costs are not covered either. There is an Avon Foundation for Women website that is the place where potential applicants are to go to apply for funding provided by the available school grants for women.
All of the forms that you need to apply are located online within the pages of the website. Research and knowledge are the keys to successfully helping someone who has been affected by one of the three issues discussed above so that lives are enriched and reborn and not completely ruined.
---
Go Girl Go! Ambassador Team Awards
Physical activities of all kinds and sports are both great ways to get girls and women involved in their communities and schools.
The Go Girl Go! Ambassador Team Awards praise teams that show great leadership in getting girls to get involved in sports and being active.
The grants given by this organization total $50,000 and there are certain requirements that have to be met for the grants to be handed out. Eligibility for the grants must have teams that are all girls in grades 9-12 and they have to be residents of the US.
Non-profit, community and schools teams are all eligible for these grants and a total of 20 teams are chosen with each one earning a grant worth $2,500.
Applying is easy. All that it takes is a chosen girl becomes ambassador of the team and signs up. Then a project must be implemented by the team to get the girls on the team and the community active likes setting up after school physical activities.
Last, the project has to be entered through the online or printable form with an essay written by each member of the team.
---

Jeannette Rankin Foundation for Low Income Women
The Jeannette Rankin Foundation (JRF) For Low Income Women provides school grants for women so every woman can and will have the opportunity to go to college, secure a great job and leave poverty behind her.
This scholarship program celebrates women over the age of 35 that are stricken by low income and want to enrich their lives, career choices and educational status. Just because a certain age has been reached that does not mean that learning has to stop and that is why the JRF is so important for education and growth for women.
Potential applicants have to be at least the age of 35, be a citizen of the US and enrolled in an accredited school with the focus being on the first bachelor's degree or technical or vocational education as chosen by the student.
Being of low-income status is also part of the eligibility and the guidelines will be discussed and reviewed before scholarships are handed out. Other factors that are considered for acceptance include your future goals with education and life, how you plan to achieve them, your financials and the obstacles in your life that you have faced, are facing or have overcome.
---
Amber Grants for Women Business Owners
A woman can feel quite empowered when she owns and operates her very own business. There are several types of grants that women can apply to and earn while on their road to becoming their own boss.
One of those is the Amber Grants for Women Business Owners.
The purpose of these grants is one that started in tragedy for a young woman by the name of Amber died at the young age of 19.
Through their memory, the grants were established to give young girls and women the opportunities that Amber never had. Small businesses can cost more than you think and the Amber Grants are there to make the road a little shorter.
The grants range from $500-$1,000.
They are substantial enough to help women with start up costs and whatever else that they need to get their business going. No money is to repay. All that the organization asks is that you pay it forward with a kind heart in your future.
There is a five-dollar activation fee and a simple form to fill out. Your contact information will remain confidential as some applicants wish to have their identities withheld.
---
Sister Fund
The Sister Fund is all about faith and feminism. The two can work together to form one goal.
The grants given by this organization are given to women that are working towards helping girls and women in the areas of all different types of religious work. The Sister Fund calls each woman a Healer of Our Time because of her contribution to the society through religion and leadership. With projects like these the society benefits just as much as the individual woman does. Empowerment starts with spirituality and then comes social, economic and political change with a religious backing.
This organization works with groups that are non-profit and not specific individuals. They also want to focus on groups that are women based and have leadership by women and the group cannot have a high annual budget that is over one million. Grants are by invitation, but if you meet certain criteria, your group can send a letter to the organization.
The grants range from $5,000 up to $30,000 and are given out especially during different times of the year. There are also smaller grants that are in the $500 range and they are also given throughout the year.
---
The Future Starts Now
There are numerous opportunities now that women have to strengthen their careers, education, businesses and communities.
These are called grants and there are several that can help you with your educational endeavors. This is just a small list of some that are available as compared to what is out there and all that it takes is a small search to find local and federal help for your individual or group purpose.
Grants have a purpose of highlighting the best in several fields from specific jobs to roles in leadership to other things like sports and religion. One woman can make a difference and give other women and girls the opportunities to shine in their schools, the work force and society.
Businesses ran by women for women show that we are a strong part of the human race and are not going to stand down, but stand firm. The internet is a great place to find scholarships, grants and other types of funding for individuals and organizations alike. Colleges can even help you just have to ask to see what is available.
The future starts now because one-step today can influence your whole life and maybe even change another's.
---
Resources: