Although the training required to become a pharmacy technician is relatively brief – usually a 8-12 month program is all that is necessary –  paying for school can be difficult.
This is true for everybody, but is especially so if you are a working adult with existing responsibilities (like rent, car payments, mortgage, etc). It's hard to pay for all those things, plus your schooling.
And worst of all, you probably won't be able to keep your job while you take your course. That all adds up to additional financial strain.
So how do you train for a better paying, more secure job?
Well, lucky for you there are numerous Pharmacy Technician Grants and Scholarships available to make life easier.
A little background information: Pharmacy techs play a largely administrative role in the drug store; assisting customers, answering the phones, monitoring inventory, and so on. In short they perform the sort of jobs that best leverage the pharmacist's time. The US Bureau of Labor Statistics reports the median salary for this professional to be $28,400 or $13.65/hour. Long term job viability is very good; between the period of 2010-2020 a 32% increase in employment is expected – slightly less than 110,000 jobs.
Federal Grants
The main Federal grants (the Pell grant and the Federal Supplemental Educational Opportunity Grant or FSEOG) are available to all eligible citizens to help fund their schooling, regardless of what career they happen to choose (the course must be taught at a properly accredited institution, of course).
So it doesn't matter whether you want to become a doctor, lawyer, dentist, police officer or whatever, these funding options are available to you.
Applying for these grants is easy; just submit the Free Application for Federal Student Aid (FAFSA).
Complete details on where to find that form and what to expect from it can be found here.
Additionally, submitting this form will also automatically determine your eligibility for any available state grants, should that option be applicable in your area.
Submitting the FAFSA is the easiest, "no-brainer" way to obtain funding for your career, and we highly recommend you do this before you do anything else.
Job Corps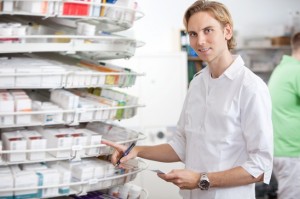 Job Corps is the US Department of Labor's career technical training and education program. It provides free training and a monthly allowance to eligible students over 16 who meet low income requirements.
Job Corps does offer a training program for pharmacy technician, so this is definitely something you will want to investigate, especially if you do not make much money.
If you want to become a pharmacy technician for free, and get paid while you train, this is the option for you!
Grants And Scholarships Specifically for Pharmacy Techs
Several associations, companies and organizations offer grants specifically for this career. These include…
Bi-Mart Pharmacy Technician Scholarship
This scholarship is offered by the Bi-Mart corporation, which has over 70 stores in 3 states. This award totals $500 which is to be applied towards education costs, and between 2 and 4 are awarded each year.
More details can be found here!
NCPA J.C. and Rheba Cobb Memorial Scholarship
This scholarship is provided by the National Community Pharmacists Association.
It is specifically to be awarded to a student pursuing a career as a pharmacy technician, and pays a one-time benefit of $2,500. Eligibility requirements are as follows; the student must registered in a full time program in this field, as well as maintain a membership in the NCPA. Applicants are judged according to a number of criteria which include academic performance and leadership qualities.
More information can be found on the official web site.
American Pharmacists Association Foundation (APhA) Scholarship Program
The APhA offers ten $1,000 scholarships annually to deserving students studying to become pharmacy technicians. To be eligible, you'll need to be enrolled as a full time student in this field, and be a member of your local APhA student chapter. More information about this scholarship can be found online at Pharmacist.com.
General Programs for Health Related Careers
In addition to available funding options from federal sources and associations, there are also "general" health program grants and scholarships which can be used for many healthcare related careers, including this one.
Many of these are available on the state and local level, so be sure to investigate the options in your own community to see what is available (also check our listings of grants and scholarships by state to check your state's options).
With a little luck and a bit of elbow grease, you'll find your way to funding your new career as a pharmacy technician!