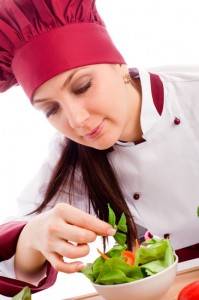 Attending culinary school lead to a very rewarding career on both a personal and professional level.
Culinary careers tend to be lucrative with solid job security. Grants for culinary school can relieve some of the financial burden of attending such a school.
Most accredited schools charge anywhere from $2,000 to $45,000 for the duration of a culinary program.
Consequently, most culinary students require some type of financial aid. Grants for culinary school help to cover additional expenses.
Grants for culinary school are the most desirable type of funding because the money does not have be paid back.
However, some grants do come with conditions requiring a certain level of performance by the student.
Culinary grants are available through several sources including federal and state governments, non-profit organizations and local businesses.
What Grants for Cooking Schools Cover
Grants can cover everything from tuition to room and board and related educational expenses.
Culinary grants can be very competitive.
This means that it takes some work to find grants for culinary school and once you find them, you have to apply as quickly as possible.
Some grants are offered on a first-come, first served basis, while others have very specific requirements. On the positive side, culinary grants are the most common of the federal grants available.
Federal Grants
Your best source for federal grants for culinary school is the Culinary Institute of America. Most federal grants are based on financial needs. The amount of funding available for federal grants varies based on budgetary issues. Applications for all major federal grants are available online.
• Federal Pell Grant – This grant is based on need. Eligibility is determined by income. Nearly 5,500 culinary institutions meet the program's criteria. Pell grants range from $555 to $5,550 annually. Payment is given to the student's eligible institution in two equal installments.
• Federal Supplemental Educational Opportunity Grant (SEOG) – Culinary students who have not yet received their bachelor's degree may be eligible for this federal grant. These grants are awarded based on extreme financial need. The grant is credited to a student's account in two equal installments. The average grant is $400 per year, although amounts can range from $100 to $4,000.
• Federal Direct Stafford Loans – This is a low-interest low to help students and parents cover educational expenses not covered by a grant or other forms of financial assistance. Direct loans can be subsidized or unsubsidized. The U.S. Department of Education is the lender, not a bank or other financial institution. Another federal loan is the Federal Perkins Loan, ranging from $500 to more than $5,000.
Online Search
An online search easily produces a sizable list of grants for culinary school students. FastWeb, Scholarships.com, and College Board are some of the most common sites with grant opportunities for culinary students. Online searches can narrow down grant selections based on factors such as location, income and other personal details. Remember, you can apply for more than one grant at a time.
Directly from Culinary Schools
Most culinary schools have a financial aid department. This is an excellent source for financial aid programs, including school grants that may not be widely known.
Some of the top culinary programs in the United States with grants and other financial resources available to students include:
• Penn Foster Career School
• Ashworth College
• The Culinary Institute of America
• Le Cordon Bleu (San Francisco, Sacramento and Portland)
Community Groups
Non profit groups and organizations within a community may offer grants for culinary school that are not widely publicized. You may have to seek out these organizations and businesses by making inquiries in person. Many community groups prefer to meet you before they provide grant money.
Churches, schools and banks are common grant sources in a community.
Additional Grant Sources
Labor unions such as the AFL-CIO often have networking capabilities that make them an excellent source of grants for culinary students. Some of these grants may require a commitment to work within a certain community for a short period of time following graduation.
The Leveraging Educational Assistance Partnership (LEAP) Program is a stand-administered education funding program offering grants for culinary school. LEAP grants are based on need and community service work study assistance. Applications are available online through a state's department of education website.
Grants for culinary school vary in amount and have specific requirements.
Some grants are strictly based on need, others incorporate a community service requirement.
It is best to apply for as many grants as possible to increase your chances of acquiring sufficient funding for culinary school. Many schools and culinary programs allow students to acquire funding from multiple grants. Contact your intended school for additional information.