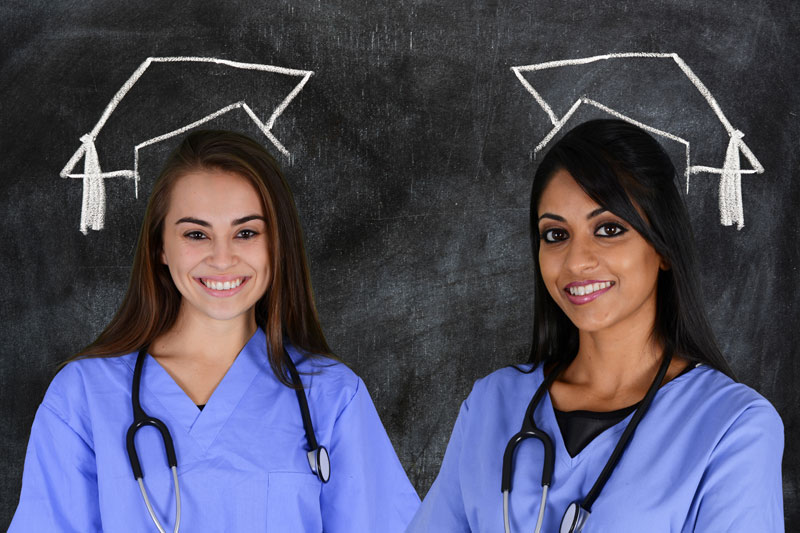 Gynecology literally means "the study of women."
That definition in itself speaks volumes on the intrinsic nature of the field. As of the present, most gynecologists are also obstetricians since both fields, more often than not, go hand in hand.
The field is a lucrative one for aspiring gynecologists but the cost of becoming one can be daunting.
Fortunately, several institutions offer grants, scholarships, fellowships and student loans that help make tuition fees, research and other educational expenses more affordable for graduate students and residents.
The following are some grants and scholarships that are available…
Society for Maternal-Fetal Medicine Scholarship Award
Every year the Society for Maternal-Fetal Medicine in cooperation with the American Association Obstetricians and Gynecologists Foundation offers the SMFM/AAOGF Scholarship Award.
This award is for students in their second and third years of education who have gone through the maternal-fetal medicine training , but it is not a typical scholarship.
Instead, it is a research-based scholarship of significant value ($100,000). Not surprisingly, a considerable amount of documentation is required (budget proposals and so on) in order to be considered for the award.
Once awarded, the scholarship may be renewed for up to three years.
West Virginia State Loan Repayment Program
The state of West Virginia offers a loan repayment program for obstetricians or gynecologists who qualify.
In order to be eligible for the program, professionals must agree to practice in areas within the state that have dire need for their skills for a period of up to two years.
Recipients can receive up to $40,000 within two years to repay debts. These debts must be for schooling; the qualified public or private educational training undergone in order to obtain their degree.
Grants and Scholarships for Obstetricians & Gynecologists: Medical Student Scholarship Program
Similarly the state of Illinois has a Medical Student Scholarship Program designed to entice gynecologists to practice in the state's underserved areas.
For applicants to qualify, they must be residents of Illinois and have been accepted or are enrolled in a medical school based in the state.
The scholarship covers a year of tuition and other school fees as well as living expenses with a budget of up to $950 per month.
Interested applicants may inquire at the financial aid office of their own college.
National Health Service Corps Scholarship Program
This particular program gives preference to medical students who are pursuing a career in the field of women's health.
The lucky recipient can enjoy full coverage of tuition fees, help in other school fees as well as textbook expenses and cost of living allowance.
The main condition for the program is that the recipient, upon attaining his degree,  must agree to serve in an underserved area one year for each year of support provided by the program.
More details can be had at the official web site.
American Congress of Obstetricians and Gynecologists (ACOG) Scholarship Programs
The ACOG offers several different scholarships to students of medicine who specialize in obstetrics and gynecology…
The Boehringer Ingelheim Pharmaceuticals, Inc. Research Award on Female Sexual Dysfunction worth $10,000.
The ACOG/Abbott Nutrition Research Award on Nutrition in Pregnancy which can give the selected recipient with up to $25,000 to fund research dedicated to the relationship between nutrition and pregnancy.
Aspiring applicants have to submit their applications by October 1 each year. More information can be found on the official web site.
Cambridge University OB/GYN Scholarship at the University of Iowa
Third year medical students of the University of Iowa who plan to specialize in obstetrics and gynecology at Cambridge University in the UK may apply for this scholarship program offered by Cambridge University.
It is a four-week term worth $1,500 which is undergone during the successful applicant's fourth year.
School-Specific Awards
There are also a lot of Grants and Scholarships for Obstetricians & Gynecologists specific to certain schools that offer such programs.
One example of this is the East Tennessee State University's James and Mary Bruce Mazza Obstetrics/Gynecology Residency Award Endowment Scholarship.
Recipients are medical students in their senior year who must be residents of the area and have been accepted to a residency program in the field of obstetrics and gynecology.
Another school-based scholarship is the Bruce H. Drukker, M.D. Endowed Award of Excellence in Obstetrics and Gynecology offered in the University of Michigan.
The scholarship is awarded to students of human medicine in their fourth year.
The recipient must have excellent academic standing with priority given to those who scored above average in the USMLE Step II in Obstetrics and Gynecology.
Federal and State Grants
Remember to fill OUT the Free Application for Federal Student Aid or FAFSA, as it is the "gateway application" for the majority of available federal grants. This includes both the Pell grant and the Federal Supplemental Educational Opportunity Grant or FSEOG.
You can learn more about about the Free Application for Federal Student Aid and how to get one here!
You may also qualify for applicable state grants so make sure you submit your completed FAFSA as soon as possible in the year you plan to attend school, as this same application is used by state authorities as well.
Learn more about available state grants here.
It is ALSO a good idea for students who are looking for grants and scholarships in gynecology to look at their own school's financial aid programs to see which scholarships and/or grants they qualify.
Good luck!