Grants and Scholarships for Administrative Healthcare / Healthcare / Medical Care / Radiology Careers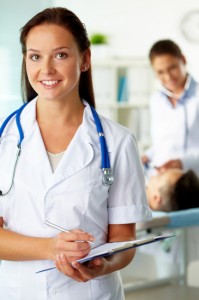 In North America, an aging demographic has increased the demand for virtually all careers in the healthcare field; from the surgeon to the nurse, from the healthcare administrative technician to the certified medical assistant.
It almost doesn't matter which career you choose; electing to train for a career in healthcare is a smart idea. While it doesn't guarantee you a job (there will be plenty of other people applying for the same jobs you are, of course) it's about as close as you can get (in these troubled economic times anyway) to a guarantee of landing decent paying employment.
Plus, because demand is not going to go anywhere but up for the next several decades, medical jobs offer long term employment security – also a rarity in the current economic climate.
In addition to the fact that the majority of healthcare jobs are extremely rewarding, these jobs are highly mobile occupations, in that many offer both national and international employment opportunities. Plus, the requirement for some jobs is quite low; some require no more than a one-year certificate, while others require multiple post-graduate degrees.
And of course, because these are "hands on "jobs performed in local communities, they can't be outsourced overseas.
The U.S. Department of Labor Statistics reports that approximately 26% of the new jobs created in the U.S. in the period from 2008-2018 will be in the health care sector. That equates to approximately 4 million jobs.
Of course, paying to get educated in your chosen healthcare career can prove to be a bit of a challenge. While some careers (eg., pharmacy technician, phlebotomist, medical biller and coder, medical transcriptionist, medical assistant, licensed practical nurse, etc) don't require the years of study that careers like medical doctor or surgeon require, that does not mean that coming up with the necessary funding isn't tough. This is especially true if you are an adult with already existing financial responsibilities – like rent, mortgage, car payments, etc, etc.
Luckily, there are plenty of grant and scholarship programs that will help cover the cost of your chosen medical/healthcare career. Choose from the list below to learn more.
Is your chosen career not covered yet? Contact us and we'll do our best to get it added as soon as possible!
 Career List
Acupuncture / Alternative /Oriental medicine
Clinical Laboratory Technicians
Dialysis Technician
Kinesiologist
Licensed Practical (Vocational) Nurse
Nursing (General)
Nurse Practioner
Nutritionist/Dietitian
Patient Care Technician
Physicians/doctors
Physical Therapist Assistant
Respiratory Therapist
Rheumatologist
Speech Pathologist